Legacy and the Double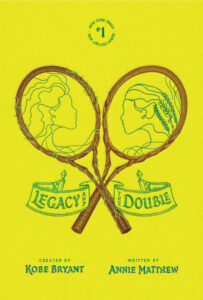 Kobe Bryant's legacy of uplifting and inspiring young athletes continues in the highly anticipated follow-up to the #1 New York Times bestseller "Legacy and the Queen."
Created by Bryant and written by former professional squash player-turned-novelist Annie Matthew, the book continues the story of Legacy Petrin, a national tennis champion who doesn't necessarily feel like one. At the orphanage where she grew up, far from the city where she learned to shine, Legacy struggles to focus on her training. Her famous magical inner light dims and darkens until she barely recognizes herself.
Then a girl who looks exactly like Legacy―same burlap dress, same signature glow―starts playing in Legacy's name. She wins matches in the city, makes charming speeches in support of "Queen" Silla, and gains a devoted following. Soon, Silla issues a decree against impersonating champions, which means that the real Legacy could be arrested simply for looking like herself.
To reclaim her name and her identity, Legacy has no choice but to compete in disguise . . . until she can rise through the ranks, face off against her imposter, and prove that she is the one and only Legacy Petrin―a champion who was born to shine.
"LEGACY AND THE DOUBLE" continues the Granity commitment to creating beautiful books with original endpaper paintings, ribbon marker, and four color printing throughout.
Commemorating Kobe Bryant Day, "LEGACY AND THE DOUBLE" was released on August 24, 2021.